Conveniently situated in Yoho Mall I, Yuen Long, Pine Care Place is an elderly home designed to combine a luxurious, home-like environment with our innovative approach to long-term elderly care services. With an area of over 33,000 square feet, Pine Care Place offers just 68 beds, averaging close to 500 square feet per resident, making us one of the most spacious elderly homes in Hong Kong. In addition to the luxurious ambience, our service emphasizes on individualized care, catering to each resident's specific needs.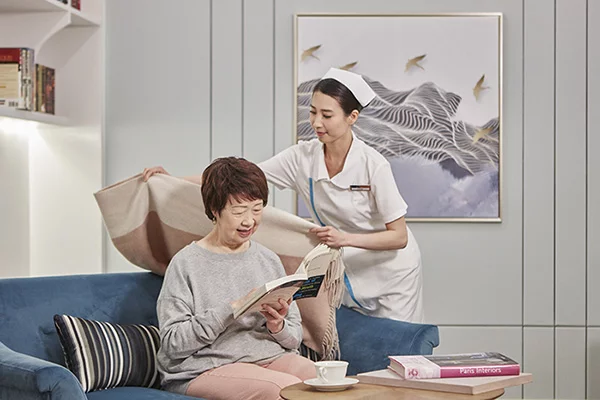 Individualized Nursing Care
We understand that the specific needs of every elderly resident are different. As a result, every one of our elderly residents has an individual care plan that is designed specific to his/her own needs, which is periodically reviewed and fine-tuned according to progress. When a new resident is admitted, a three-pronged evaluation of his/her conditions is conducted by a nurse, a social worker, and a physiotherapist.
Elegantly designed, Pine Care Place features a warm and inviting ambiance throughout. Our design philosophy was to integrate a home-like environment into the functional requirements of a long-term care facility. Our residential suite features spacious single and double bedrooms, and a common dining and sitting area shared by several residents. This arrangement offers an ideal balance between privacy and social interaction among flat-mates in an intimate, cozy setting.